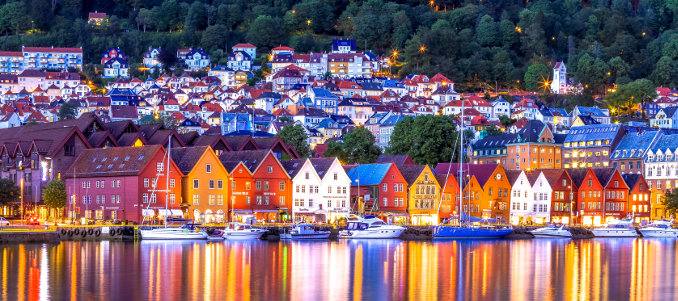 Bryggen – A Unesco World Heritage site © visitBergen.com
ESCCA 2019: Flowrescence at the Fjords
The ESCCA Conferences have become of major importance for education and scientific exchange in the fields of basic, translational and clinical applications in cytometry, in particular, flow cytometry applications and in Hematology, Immunology, Cancer and Cell Biology.
Dates
Wednesday morning 18 September:
Pre-conference training courses, Welcome session for first-timers, ESCCA Examination
Wednesday afternoon 18 September - Saturday 21 September:
Downloads
Instructions for oral presenters, poster flash presenters and poster presenters, as well as a overview of the slots and poster board numbers, can be found on the abstracts page.
Contrary to previous years, it is not necessary to pre-register for the education programme sessions (PAR). You can attend the sessions & topics of your preference.
The Conference has been accredited by the European Accreditation Council for Continuing Medical Education (EACCME). Please see Accreditation for more information.
Pre-conference training courses
Four pre-conference training courses are scheduled on Wednesday 18 September from 09.00-12.30 hrs. Limited places available, pre-registration required via the online registration form.
Training course A: Cytometry in veterinary and animal sciences: Fish immunology and marine biodiversity
Organiser: Marianne Enger (Oslo, NO)
The first part of this course highlights the fish's immune system, its interaction with pathogens and responses to stimulation and vaccines. The second part immerses the students in the marine environment focusing on marine biodiversity, including species composition and the functional and structural relationships in different communities.
Part 1. Fish immunology and vaccination by Gyri Teien Haugland (Bergen NO). Part 2. How to detect and measure activity of marine microorganisms ranging 9 orders of magnitude in size, and 6-fold in concentration with and without auto-fluorescent properties by Aud Larsen & Gunnar Bratbak and co-workers (Bergen, NO).
Level: Basic. Max. 10 places. Only a few places left
Training course B: Microvesicles
Organiser: Enrique O'Connor (Valencia, ES)
Participants will receive a comprehensive review of microvesicles. The course illustrates the biological and clinical relevance of the cytometric analysis of microvesicles, discusses the technical bases of sample preparation including guidelines for optimization and standardization and demonstrates novel approaches for multiplexed analysis. Participants will gain hands-on experience by analyzing listmode files of real cases from clinical and experimental settings in an expert-guided environment.
Level: Advanced. Max. 20 places. Only a few places left
Trainin course C: Flow cytometry tools
Organiser: Sonia Gavasso (Bergen, NO)
In the first part of this course we will give an overview on ESCCABase, a web based tool that can be used for file repository, for remote training and education in Cytometry. In the second part participants will be introduced to several clustering algorithms for high content data analysis. After covering a number of flow cytometry data analysis strategies, each participant will analyze a dataset in R using their own computer. Example scripts will be in steps to help move the process forward.
Level: Basic. Max. 15 places. This course is fully booked
Training course D: Advanced training on CLL MRD This course is fully booked
Organiser: Andy Rawstron (Leeds, UK)
In this training course, by analyzing listmode files of real cases of CLL MRD, participants will gain experience on instrument optimization, data analysis and data interpretation under the guidance of an expert hematologist.
Level: Advanced. Max. 20 places.
Welcome session for first-timers: meet, greet & ask ESCCA
This session is aimed at delegates who are new to ESCCA and/or attend the Conference for the first time.
Introduction to ESCCA: education options, certification, ESCCAbase, schools, etc.
Networking: Meet Board members and ESCCA Committee members
ESCCA Examination
ESCCA members will be able to take the official ESCCA European Cytometry Certification Examination on Wednesday 18 September from 10.00-12.00 hrs. For general information on the Exam and to register, please consult the Membership section of the ESCCA website.