Exhibition area
The exhibition will be held in Hall 1B-1C-1D, located on the 1st floor next to the plenary meeting room (Hall 1A). All coffee breaks and lunches will be held in the exhibition area, with multiple catering service buffets to ensure that delegates are spread throughout this area. The poster boards will also be placed in the Exhibition Hall.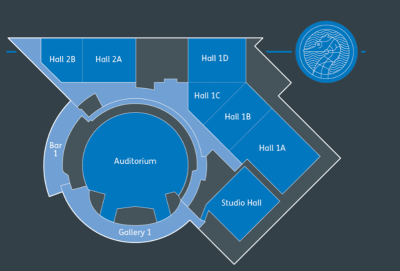 Exhibition manual
The Exhibition Manual will be sent automatically to confirmed sponsors in the week of 13 June. It contains important information, such as:
important deadlines
build-up and break-down schedule, show hours
shipments, deliveries, freight forwarding
details shell scheme
instructions for customised booths (main sponsors)
copy to be submitted for the congress app
Freight forwarder
Exhibitors should arrange their own shipments / freight of exhibition materials to and from ICC Belfast. For all stand material deliveries and collections, we strongly advise that you do not send anything to the venue directly.
ICC Belfast does not provide loading and warehousing services. All shipments made by the exhibitors or by their shipping companies must be cleared from the customs. Neither ICC Belfast nor the Organisers can offer customs clearance.
Our appointed contractor is Cameron Event Logistics, who will manage all on site deliveries and collections. All shipments can be sent to Cameron Event Logistics local warehouse, up to 5 days before the 1st show day, where they will be safely stored. At appointed date Cameron Event Logistics will arrange delivery to the venue and placed directly onto your stand.
Attention International Exhibitors NON-UK EXHIBITORS
If your material requires customs clearance, DO NOT send directly to the venue as delays will incur due to your material being seized or held by UK Customs authorities. Contact Cameron Event Logistics Ltd, they can supply a UK registered EORI number. info@cameronlogistics.co.uk / Tel +44 1355 238 559

All Forklift requirements must be booked in advance and will be managed by Cameron Event Logistics.

Stand clearance, empty case storage and courier receiving services are also available upon request.

Please liaise with CEL directly regarding your logistics requirements via hyperlink below.

ENQUIRY FORM – CLICK HERE
Email: Info@cameronlogistics.co.uk / ewen@cameronlogistics.co.uk
Tel:  +44 1355 238 559
Deliveries
You are advised to send your shipment via the freight forwarder Cameron Event Logistics. Should you decide not to use their services, please note the following:
ICC Belfast can only accept deliveries from Tuesday 20 September 07:00 hrs. Any deliveries attempted outside of this time will be turned away.
The storage capacity at the ICC Belfast is limited to the equivalent of 2 moving boxes per exhibitor, measuring 48 x 32 x 36 cm each. Larger shipments should be sent via the freight forwarder.
The use of ESCCA shipping labels is mandatory. Please make sure to label EACH package/box/crate. 
NB. If you are using the services of Cameron Event Logistics please follow their instructions.
Accessibility / loading & unloading
Service Yard (Goods Access) Access to the ICC Belfast Service Yard is via the ICC Belfast/Hilton Hotel shared service entrance, located at the rear of Lanyon Place, adjacent to the Lanyon Place multi story car park. Please note there is a height restriction of 4.0m within the service yard. 
Please download the access map via the button here below. For more information about access requirements, parking and storage, please see the Exhibition Manual. 
Stand builder & additional orders for stands
Warwick Event Services has been asigned as stand builder. For additional orders, e.g. stand design, graphics and branding, carpet in the booth, furniture, lighting etc. please dowload their exhibition manual and access their online store via the buttons here below.
Discount expiry date: 29 July 2022
Store close date: 26 August 2022
Artwork deadline: 02 September 2022
Store password: ESCCA-ICC-22 
Discount code: ESCCA-10%
For further information, a discussion about your stand or a bespoke quote please contact Warwick at exhibitionorders@wce.co.uk, phone +44(0)7511 177989.